In the mid 1880'ies a young Englishman by the name of Wilfred Burton Rowley Kennedy arrived at small community by the Sognefjord in Norway. At this location, called Sogndal, he entered as a guest at the hotel "Danielsen". He soon got a reputation of being a clever hunter and angler. Most commonly known is the fact that he on the 25th September 1886 signed a contract with one Jens Undahl to rent an old match factory in the valley for 15 years, he should not make matches and all existing machinery should be removed. At several occasions earlier this factory had burnt down. The fire at 3 October 1884 was very serious, no further production was possible. Up to 110 women and men had their daily work there, in addition there were much unemployment in the valley. Wilfred was offered to purchase the factory for a sum of kr 20,000. It was bought by him at the 13th May 1887, already he had made it into a textile factory with 13 loomes. The parish was now welcomed with new industry giving employment to a number of persons and a marked for the local production of wool from a number of small farms along the fjord. But already the next year he sold the factory to the local sheriff Nils Lem. Also at this time he bought an old estate "Bahus" for an amount of kr 12,000 and gave it the new name "Ulverston".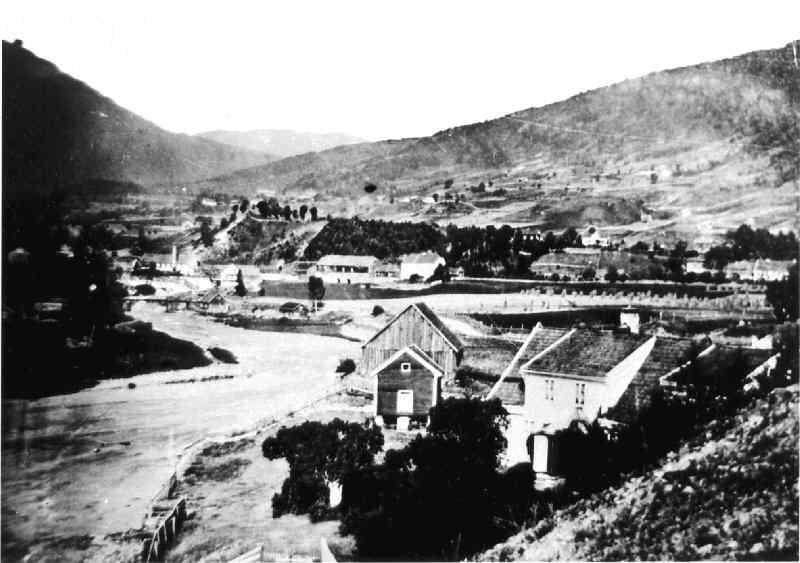 Ulverston at the time of Kennedy. The textile factory is seen with a high chimney behind the waterfall at left.
It was probably Kennedy who installed a large open stove of the finest British make in the large drawing-room. My Grandfather arrived as a new resident in the autumn of 1922. When he decorated this room and removed old wallpaper several small bullet holes could be seen in the timbered wall to the east. It appeared that Wilfred had been exercising pistol shooting with his friends as the tradition told. At Årøy (Aareoy), an area at the end of the Sogndal fjord, a well known salmon and trout river with several water falls can be found. Wilfred was famous for catching in 1894 a salmon of 63 lbs, one of the largest to be seen in this part of Norway. In previous times a cabin to host visiting anglers was located by the river.
It is told that Wilfred had a cabin of his own there and that he prepared parties for his servants which included two maids as well as two hired men.
| | | |
| --- | --- | --- |
| The Årøy River with the "English House" | | Fishing in Årøy River (old post card) |
On the front wall of the anglers's cabin drawings of the largest catches were made. The cabin is long gone. But a photo of this wall exist on which we can see Wilfred's salmon. A nearby mansion ("The English House") where the visiting anglers stayed has also been demolished and burned (1966).


Drawing of Kennedy's salmon on the wall of an old cabin by the Årøy River.
According to church records Wilfred died on the 18th August 1894. A doctor was called and the cause of death recorded as heart failure. He was buried on the 25th August at the Stedje church yard only 31 years of age. His occupation was recorded as "Landlord" and "Gentleman" and his place of birth Ulverston, England. Old tradition tells that he hang himself in a certain room at the attic of his house.

Wilfred Kennedy's grave. (KLG, 2001)
Has been removed.

His tombstone in front of Stedje Church. (KLG, 2001)

Who was this English Gentleman?
In the census of 1 January 1891 he is listed as the main person and "Gentleman" at Ulverston. The person doing the census has also written down his occupation as "rentier". It is listed that he was married to Emielie Augusta Kennedy, born 1868 in Bremen (probably Germany).

Wilfred's clock in Norway
given to one of his housekeepers.
Photo: Atle Bondvik, 2006
In the list of dwellers in the house we also find Sigri Pedersdaughter, "Servant, Kitchen maid", born 1844, locally, as well as Andria Rosendahl, "Housekeeper", born 1848, Kvalvaag, Salten, North Norway.
Wilfred and his wife got one child, Myles Cassilis, who was born in Bergen 10 September 1893. Tuesday on the 19th October 1893 he was christened in Stedje church in Sogndal. The parents were listed as Wilfred Kennedy, b. 1863, Ulverston, England, and Emilie Augusta Stengler, b. 1868, Bremen. (In a Kennedy genealogy Report she is listed as: "Emilie Augusta Glauert only dau. of Roland Glauert Bergen, of Norway").
The Godparents were listed to be no less than: "Sheriff Lem, Landowner (Squire) Nils Knagenhjelm and his wife Mrs Augusta Knagenhjelm, Mrs Magda Knagenhjelm, Myles Kennedy" (Myles probably not present since at bottom of list).
Sheriff Nils Landmark Lem and Nils Knagenhjelm were active leaders of the local bank and did much good for the community. It was of course also important with new rich investors. A Great-Grandchild of Lem tells me that his grandfather told him of his father's friendship with Kennedy.
| | | |
| --- | --- | --- |
| Wilfred Burton Rowley Kennedy | | Emielie Augusta Kennedy |
Local tradition tells that Wilfred had been in Africa, probably because he suffered from asthma. He married a lady who had been a circus dancer or something of the sort. His family did not approve and it was believed that he might have been an outcast expelled to Norway. Having got a son he decided to stop taking morphine. Probably it was administered so hasty that he was taken ill and died. His family arrived and the widow was offered to stay with them if they could take care of the upbringing of the boy. The housekeeper, Marta Vangestad, travelled with them back to England. After a while she returned as she did not feel comfortable in a large foreign house. Soon after WW1 his son, now an officer, visited his fathers grave in Sogndal.
Wilfred did not prosper by his stay in Norway, and probably did not lead a healthy life, being addicted to morphine. His son Myles Cassilis got a good education, at Malvern, and the Royal Military College, and was a Captain of the Late 13th Husar. On 15 Nov 1917 he married Beryl Maud, 3rd. daughter of R. H. Gosling, of Hawthorn Hill, Berks. and got two daughters. In 1931 he married Mollie Mildred Pady, in this marriage he also got two daughters. Myles Cassilis died 3 Jan 1947.
Wilfred had an older brother by the name of Myles, a Great-Great-Grandchild of him living in Ulverston has provided information about Wilfred's family.
---
The textile factory burned down in 1898 and was rebuild with larger premises at the same location by the waterfall at a place called Foss. In my time it was a comparatively large factory with up to about 60 workers. After the death of Kennedy "Ulverston" got back the old name "Bahus". Now it was bought by Dr. Ole Benjamin Schøyen from Vinger in Norway for kr 6,000. He had a great interest in gardening and made a magnificent garden.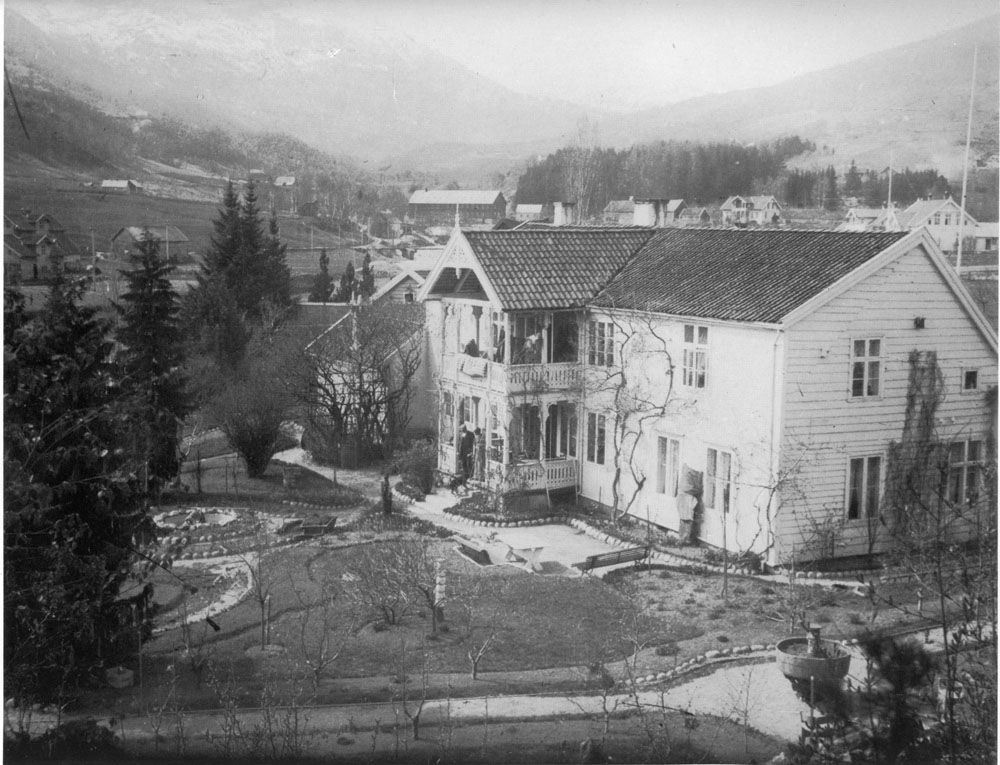 Bahus in 1915 after Wilfred had left (uknown photographer). Demolished in 1962 to make room for a modern hotel.
After Dr. Schøyen had died in 1921 the place was bought by the municipality for kr 60,000 to be used as a resident for doctors. My Grandfather moved in on his 50th birthday in 1922. In December 1961, at an age of 89 år, he moved to the Oslo area. The house and the garden was now levelled with the ground to make room for a new hotel. The magnificent garden is gone, only few of the beautiful trees remain.
Some info on Wilfred's family background
Wilfred Burton Rowley Kennedy was one of fifteen children of Myles Kennedy and Margaret Rowley, in Ulverston, Cumbria. Myles was the owner of several iron mines in the area and lived in a large stone mansion and a tower with a panoramic view of Morecambe Bay and the Lake Mountains. The building was called "Stone Cross" from an ancient stone cross which stood near the site. Wilfred was born on the 8th July 1863 and was educated at Cheltenham and Trinity College, Cambridge. He served as a lieutenant with a local military Regiment, the 4th Battalion, Royal Lancaster Regiment.
The Lonsdale House in Ulverston was the home of a Myles Burton, whose daughter Elizabeth was born there in 1800. In 1817 he buildt a house Fair View near the centre of Ulverston. In 1819, Edward Kennedy came to Britain from New York and his son Charles fell in love with Elizabeth Burton. The couple wanted to marry, but she was under age and her father refused to give consent.
Deciding to elope, it was told, they set off in a coach, but Myles Burton returned home and found his daughter missing and set off in pursuit in such a hurry, the story goes, that the coachman had not enough time to get properly dressed. But the eloping couple met with one misfortune after another, first one of the horses lost a shoe and then the wheel came off the carriage, that they only got as far as Newby Bridge, when a somewhat angry father caught up with them.
Elizabeth was brought back to Fair View and for a year and a day, was constantly accompanied round Ulverston by a maid, to make certain that she did not attempt to elope again.
In the end Myles Burton resented and allowed Charles and Elizabeth to marry. Charles set up as a doctor in Broughton, but in 1821, when Myles Burton died, Elizabeth inherited the house and property and the couple moved to Fair View. In 1835 they got a son called Myles Kennedy.
Charles's father Edward had a brother who had attended Cambridge to read geology. In the 1840's he started mining at Askam in the hope of finding silver, but instead he found iron ore. The Kennedys took out a lease on the land from a Col. Mckinnen of the Lotts, Askam, for two years, but when the period expired he would not grant an extension.
Fortunately, though, for the Kennedys, the iron ore field ran into the adjoining property, although the owner was unaware at the time that iron ore existed on his land. The story goes, that at that time, Squire Sandys had a town house in Daltongate, the house that is now the Bible Shop. One day he met a member of the Kennedy family in Daltongate and told him that he had just bought some property at Roanhead, as a place to keep his greyhounds who were making too much noise, and offered the lease on the adjoining land, where the iron ore had been found by the Kennedys. "From that time neither the Kennedys or the Sandys looked back", it is told.
Tremendous wealth came out of the iron ore mines between 1851 and 1923, but their hey day was during the Franco-Prussian war from 1870 to 1873. The mines were named after members of the family: Nigel, Kathleen, Violet, etc..
Although Fair View in recent years was the established home of the Kennedys, originally their house were at Hill Foot and Stone Cross. It was Myles who built Stone Cross after making an unsuccessful bid for Conishead Priory. Col. Bradyll wanted £35,000, but Myles would offer no more than £30,000. Both were stubborn men and neither would give in. In the end Myles decided to build Stone Cross and had spent more than £35,000 before the first floor was completed. The main building, built of white limestone with Hexam freestone dressing, was established in 1874. The final bill, when it was presented in 1880, was a colossal £44,872 - 2s. - 2d.
(Ref.: Newspaper "THE NEWS" interview with Col. Hugh Kennedy, Fair View, April 18, 1966)
Myles Kennedy married Margaret Rowley (born 1834) on the 24th October 1860. Among the 15 children (6 sons and 9 daughters) the two oldest were: Myles T. Burton (born 1862) and Wilfred Burton Rowley (born 1863).


Mr. and Mrs.Myles Kennedy

The Kennedy coat
of arms

Wilfred's home - Stone Cross in Ulverston
Pictures of the old mansion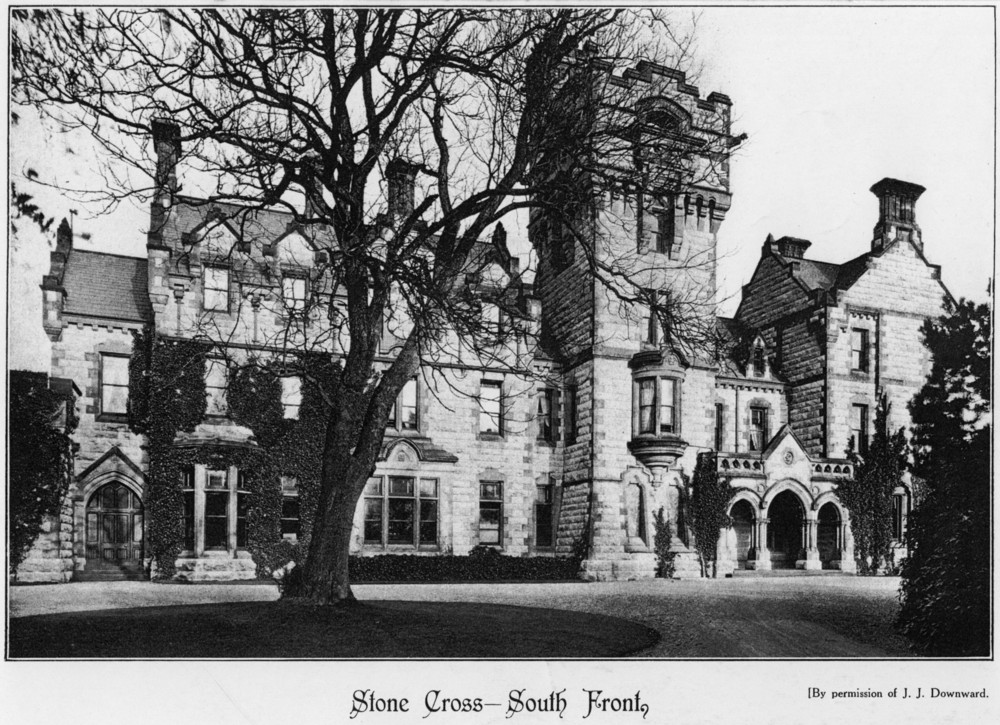 A Gothic-style white limestone mansion buildt for the Kennedy family in 1874. Designed by J. W. Grundy.


Main hall with
magnificent oak staircase which was removed and burnt.

The dining room
More photographs of Stone Cross Manor
These photos belong to Brian Ainley, former owner of Marl International. Correspondence by Mike Hancox.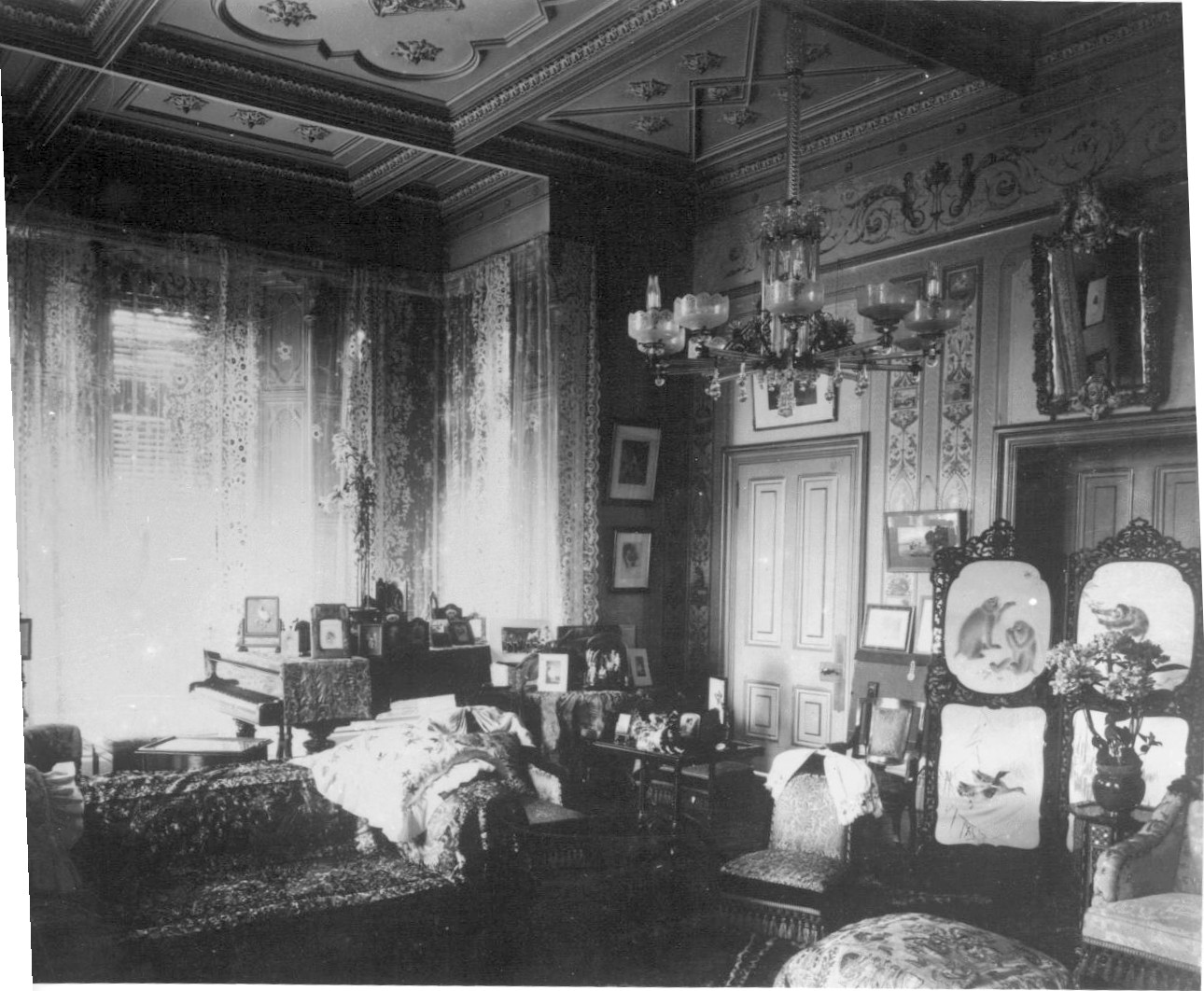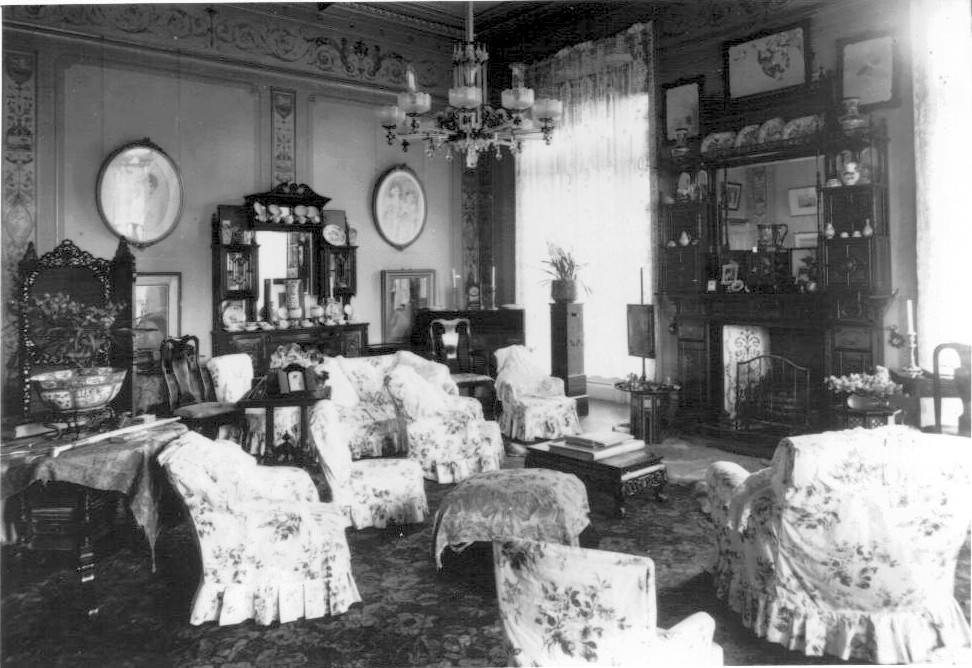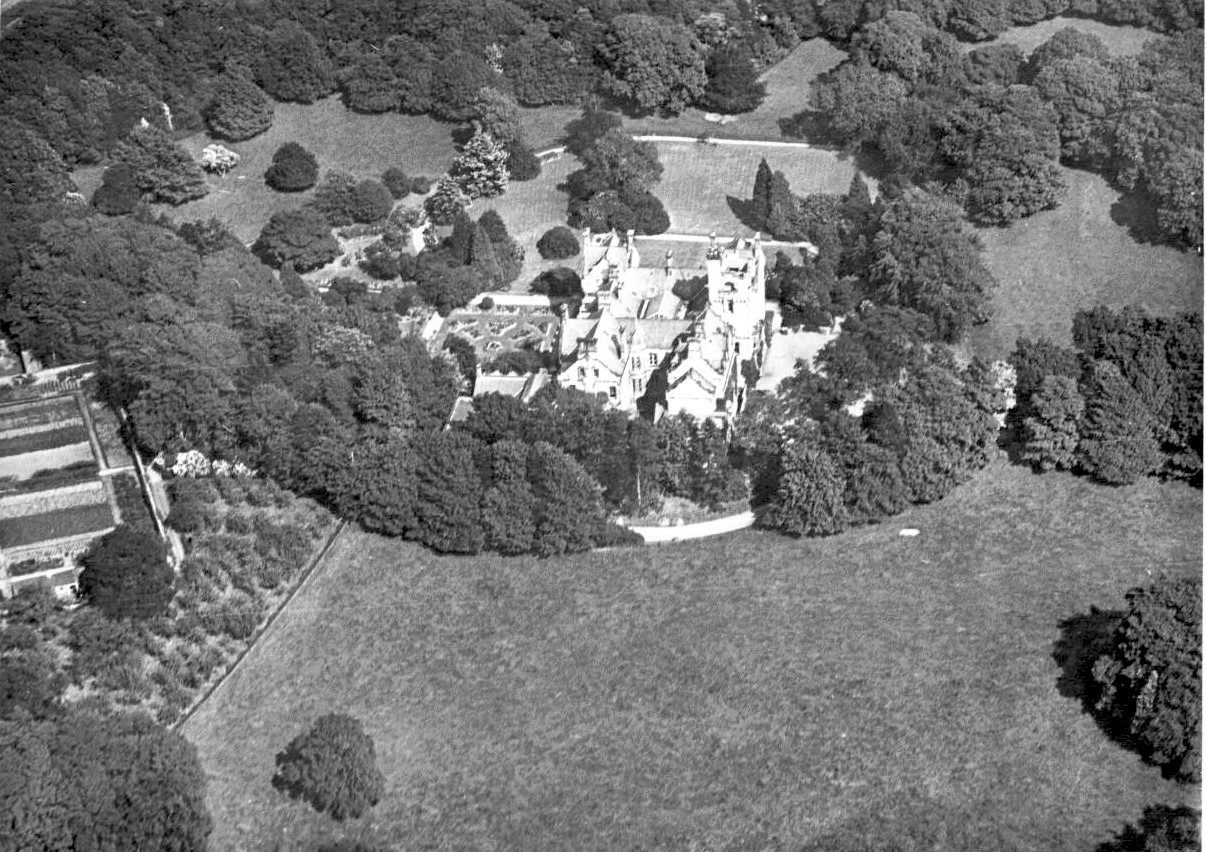 The Kennedy family was living at Stone Cross to about 1950. The mansions more recently use has been as a special school owned by Lancashire County Council. In the main hall a beautiful oak staircase was demolished in order to facilitate the playing of indoor football. In the early 1980's the mansion and the estate had been acquired by a group of London businessmen. They wanted to make a 50 room "first class" hotel. In recent years (1986 - 2002) Stone Cross Mansion was the head office of local company Marl International. Marl spent hundreds of thousands of pounds on the building, slowly restoring it and also bringing historic items back to the house.
In 2004 the building was put to fire and decimated by vandals. At the present moment there is a big dispute about its ownership and also if when sold what Its Future Use Will Be.
Information from Carol Bennett at the "Ulverston Heritage Centre"
More of the Kennedy clan: http://www.kennedysociety.org/clan_info.htm
Thanks to Ken Barltrop , Clive Park, Myles Kennedy, Mike Hancox, and others, for information
New Web Page about the Stone Cross School and its Old Boys.
Ulverston, a town in Cumbria south of "Lake district".

Information can be found at: http://www.liv.ac.uk/~mhbarker/ulverston.html
Any comments? Please reply to: kgroenha(at)online.no (Substitute (at) with @ )