Gjervalvatn
Deep inside Sørfjorden (South fjord) in Rødøy Council you will find the Gjervalen valley. Record show that people had cleared a farm there in 1723 and that it was populated continuously until about 1920. In 1871 it was purchased by Lorents Østensen.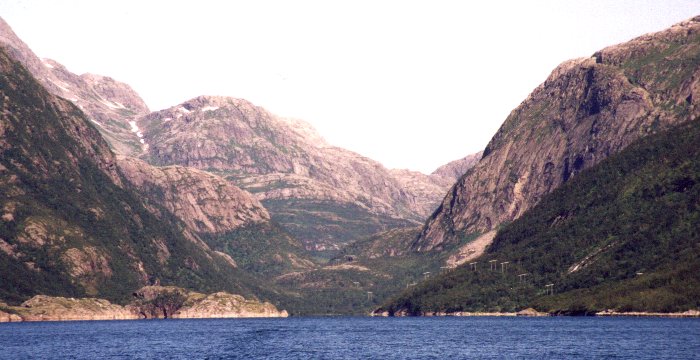 Karl-Ludvig, aug 1996
A 2 km walk up along the river brings you to the Gjervalvatn lake with steep mountain slopes on both sides. It was necessary to use a boat to get to the farmland behind the lake. From there one can
see the Okstind mountain in Lurøy Council: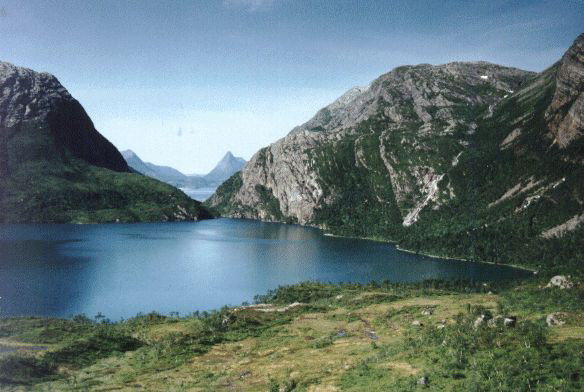 Some parts of the mountain side to the very right have a slight reddish tone. Around 1900 mining for copper was done intensively with several miners at that location and with Ivar as a blacksmith.

View of the farmhouse after restoration/modification

View of an old buried food storage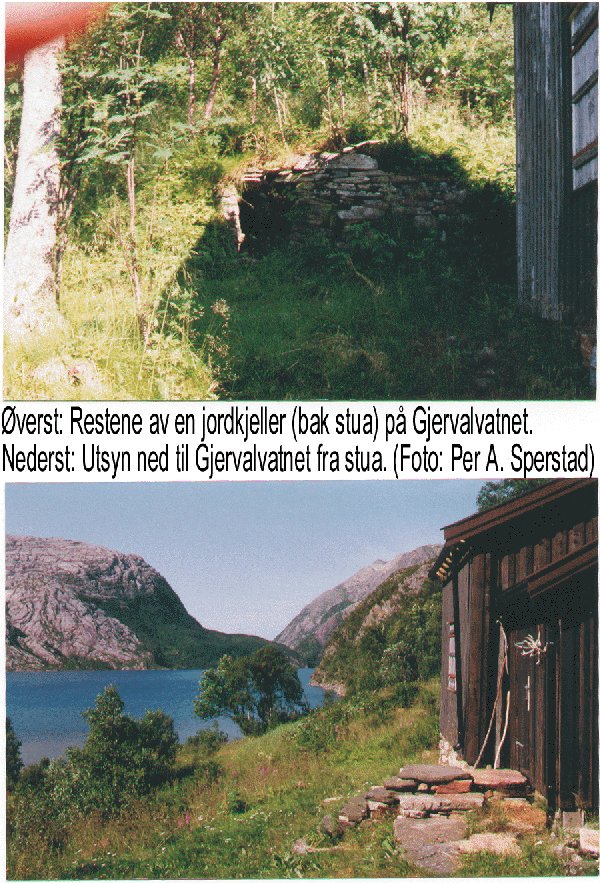 View over the lake from the east


View over the lake from the west
One Anders Larsen was born about 1735 and married to Marthe Poulsdaughter. He died at the site in 1784. He had a son Lars born in 1772 and a daughter Siri born in 1784. Another by the name of Anders Larsen was living here in 1801 with wife Ane and brother Nils. Their children had left home. Christen Jacobsen (born 1801, Melfjord) was living here around 1828-36 with his wife Anne Betelsdaughter and children Daniel (born1828), Hans (b.1833) and Mariane (b.1836).
In May 1849 Lorents Østensen moved in from Lurøy. He was born 1 April 1823, Lia, Lurøy and baptized 25 June. He married Elen Katrine Pedersdaughter from Lia, Lurøy, 15 July 1849. Their son Peder Lorensen was born 24 April 1850 and died here 15 July 1923. He was married on the 11 July 1875 to Marianne Israelsdaughter from a small farm at the nearby Helgåvatn lake.
Marianne (b. 1852) and Peder got 5 children: